Geplaatst op 19-09-2021 - Categorie: Roeien - Auteur: Sitesh Shrivastava
The RRRace took place this Sunday to celebrate 90 years of RIC and it was great to represent De Hoop in the race in club uniform. We were one of ten teams that joined from the club. For us this was the first race ever and it was exciting for us to be part of the vast variety of boats and teams who came together at the starting point of the race nearby Klein Kalfje.
Our crew involved Niels, Florian, Ronald, Jose, and Sitesh on the boat Tootje van Niftrik (4x+). We were training hard for the last two weeks both on the ergometers and on the Amstel why we're happy to have reached the 4th best time in the 'Ervaren' category even after a 'laat lopen' when a yacht decided to cross our path!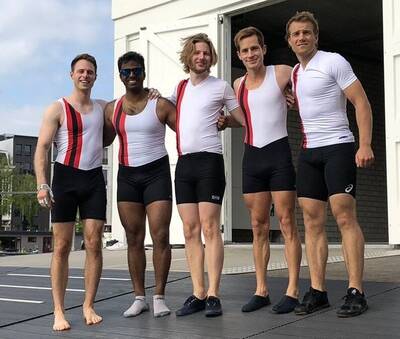 We got our first taste of a rowing competition and are already looking forward to building proper coaching and preparations for the upcoming races.
Congrats to all 10 teams who participated across 'Ervaren', 'Jeugd' and 'Onervaren' categories and achieved great race times!